you scream I scream we all scream - may 16th, 2013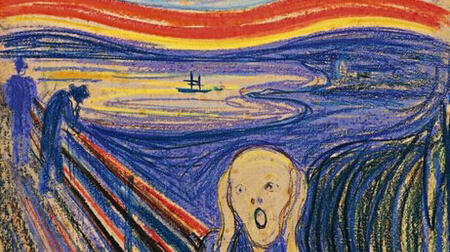 A couple of weeks ago I had a moment alone with Edvard Munch's "Scream" which sold last fall for just under 120 million dollars. That's an obscene amount for a pastel on cardboard, even if it was drawn in 1895. They say it is the most expensive piece of art ever to be sold at auction (to date, anyway). A friend got me early admittance into Manhattan's Museum Of Modern Art on a Sunday morning, an hour before the hordes invade the building. I headed straight for the 5th floor and suddenly, there I was – my wife and a guard the only company – standing before one of the world's most iconic images. In the eerie semi-darkness I was struck by its simplicity. How had the artist been able to capture, in that little hairless caricature, the anxiety and uncertainty that haunts each of us?
Staring at it, I thought about all the times I'd felt worn out, overwhelmed and stretched to my limits, maybe even a little desperate. It was so much easier to admit to these feelings when I didn't have to search inside to find them. Here they were before me, visualized in scribbled streaks of red, orange, blue, and black.
Facing "Scream" – barely 50 feet away – was another blockbuster work of art that has also continued to tug at our universal unconscious: Vincent Van Gogh's "Starry night", with its broad pallet knife sweep of stars and sky. Looking at it up close, you can sense him relentlessly pushing the thick paint around, swirling a manic fervor that still rocks our psyches more than a century later.
So I'm standing between these two emotional powerhouses tuning into how they were making me feel: somehow, strangely alive.
One thing I know for certain: to continue to place yourself in the presence of genuine creative consciousness – whether it be art or music or whatever – is a solid affirmation of life, its tenuousness, its challenges and disappointments, its disciplines, its passion, its inherent beauty beyond the many frustrations.