whole - jan 8th, 2013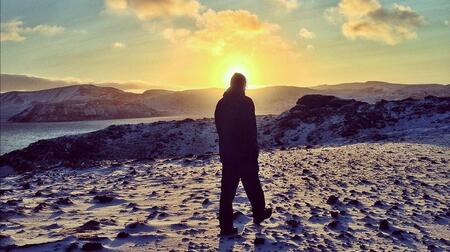 It seems like lately, when I sit down to write, it's usually about some form of respite – relief from an undefined, overwhelmingly fearful pressure. I don't know why this leaks out of me so often. I don't really feel afraid. Unless I'm blocking and totally hiding my emotions, which could very well also be true . . .
But, whatever the reason, this stuff comes out of me,
and it feels real.
I'm just trying to stay out of its way.
whole / minor blue surcease
lock me in your arms
I will melt into you like snow in the rain
this world is just getting too crazy
I need your comfort
I need your warmth
I need to hold you close
what would I ever do
if I didn't have you
in my life?
where would I go
to feel
w h o l e ?
earthed in your quiet love
my home is on the range
underneath the blanket of blue air
I stare
up at countless buddhas
beaming down from space
the silence peaks like waves
through liquid hollows of my ears
and I seem suspended
caught in the moment
of minor blue surcease
far from the cities without edges
and the highways choked with cars
partners in pleinair
anywhere I don't care
as long as I'm roaming
someplace new with you
breathing in the wind
lip to lip we hang
and seem suspended
caught in the moment
of minor blue surcease
stripped to the essence
connected to the core
in the absolute serenity of timelessness
stressless seconds become raindrops
soaking thirsty soil
we feel the grasses germinate
grow and lift us up
to seem suspended
caught in the moment
of minor blue surcease