the thumb - mar 6th, 2012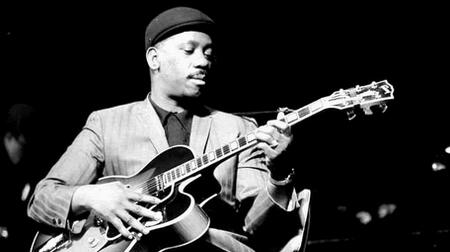 Today happens to be the birthday of one of my favorite musicians, Indiana born and bred jazz guitarist Wes Montgomery. He developed his own unique style – a way of thumbing notes out of his guitar, making use of full-handed harmonic octaves and block chords to create a fat thick sound that became his signature and made his playing immediately recognizable. There are legions of guitarists out there who can play impressively fast streams of notes up and down the guitar neck – but what set Wes apart was his facility for developing melodic ideas. He told stories, took you on a trip, evolving a single string tale into a flourish of thumb driven arpeggios that seemed to bounce off the neck of his guitar.
To honor his birth day, I'm posting a link to an amazingly creative solo from the classic 1965 live recording of Wes playing with the Wynton Kelly Trio. It comes from an album called "Smokin' at the Half Note" – and smoke he does. At 2:57 Wes starts his solo, a 3½ minute melodic journey that swings hard and doesn't let up. Enjoy it.
As is true with most of the great ones, his time was way too short.
Happy birthday Wes.