when you're feeling blue - feb 19th, 2012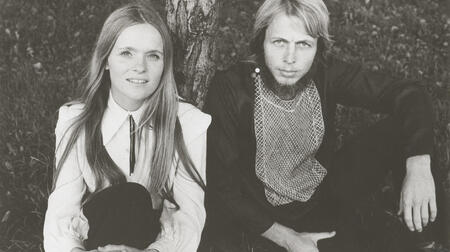 41 years ago this month, I had my first opportunity to create music with a full blown orchestra. My sister Mary and I were recording an album project for Chicago-based record label Sunlight Records. It was 1971 – a time when musical experimentation was in full fashion – and producer Peter Wright envisioned dressing our spare acoustic sound in full orchestration. He tapped renowned arranger Hoyt Jones to write inventive charts for the albums twelve songs, including short musical interludes to tie the songs together.
It was our first encounter with a large orchestra, a hand-picked collection of musicians from the ranks of the Chicago Symphony and local big bands. The sessions took place in RCA's huge Wacker Drive studios. What a thrill it was to feel these lush, wild arrangements wrapping around our simple folky sound. Here's one of my favorites from the sessions, a song I wrote called "When You're Feeling Blue." I've also attached a live performance recording from that same period to give you an idea of how the song sounded stripped to its essence – two acoustic guitars and two voices.