a good and gentle man - aug 13th, 2011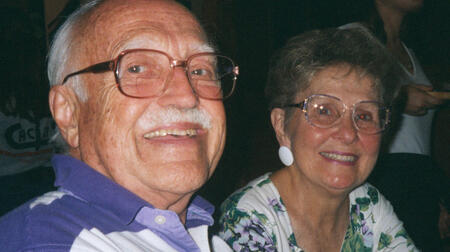 Since I've blogged about my dad a few times since his stroke in mid June, I feel compelled to let you know that he died peacefully this morning. Although it's a relief to know he is no longer struggling with the debilitating aftereffects of the stroke – something I know he didn't relish – it's still hard to admit to myself that I will no longer be able to feel his touch or hear his voice. He had a wonderful long life, a loving monogamous 61 year marriage to his soul mate, fathered and mentored 12 children, and still always made time to listen to, advise, and help anyone who sought his counsel, and there were many.
He had all the qualities I aspire to as a man. He was bright, sensitive, principled, focused, caring, and never afraid to show emotions. He was also a deeply spiritual man and, for the religious, death holds special meaning – as a sort of culmination and reward. I'm sure he's happy about achieving that, and about getting to reunite with my mom in that peaceful place where souls bliss.
But I'll miss you dad. I was always proud to be your son. Thanks for giving me life and for everything you did for me.