the feminine factor - 12:00am Sep 1st, 2012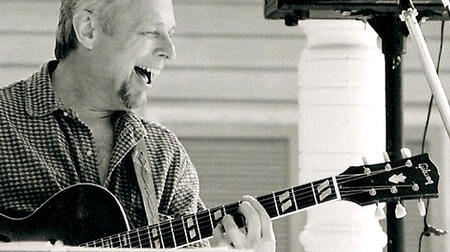 "This is a mans world, but it wouldn't be nothin' – without a woman or a girl "
Yeah, James Brown has got that right. Everything man does can be enhanced by collaborating with the right woman. I've found that this is particularly true in the creation of music. There's an intangible vibe that the work of a woman can impart which pulls the melody down bewitching paths.
Throughout my career I have had the fortune to work with some extremely talented members of the feminine faction.
It all began with my younger sister Mary. Check out this track from 1970, "Ceremony." We ran on the same DNA, so maybe that explains why she had this uncanny way of magically matching me note for note, breath for breath, sound for sound.
When I was recording the Swallow Life album in 1999, I had this idea to replace my affection for having jazz horns commenting on lyrics – by using a voice. After a little searching, I found powerhouse gospel shouter Tina Wilson. She had the sublime ability to turn her voice loose and blow free form, like she does on "Chasing Insignificance."
I've also been fortunate to collaborate often in live performance with violinist Jamie Shadowlight. There is a softness and intensity about her that direct connects with an audience. The video on the right shows her casting her spell on our bluesy rendition Dylan's "Just Like Tom Thumbs Blues."
A year or so ago, I wrote a song about a relationship finding its sweet spot by cruising just under the radar of the craziness of everyday life. I wanted to record "Hiding In Plain Sight" as a duet – and my producer friend Larry Mitchell suggested jazzy vocalist Steph Johnson. She turned out to be the perfect fit, injecting my lyrics with freeness and life.
My latest song "Blood" starts spooky and spare, but near the end it cries out for some church. And when I went looking for it, somehow soul holler-er Yvette Graham Williams came my way, like an angel, to bring it on home. In the process she put her indelible stamp on the song.
Most recently, I had this short tone poem called "Sorrow Comes." My friend Misha Piatigorsky wrote a beautiful cello setting for it, and as a bonus introduced me to Bulgarian cello virtuoso Irina Chirkova who took it to transcendent heights.
So that's my story so far. Yes, I do stay vigilant, always searching for those special creatures – the ones that mesmerize me with their sonic radiance. But still, there is no denying – I am a lucky man.