rare live Beat.itude quartet performance - 7:00pm Jul 13th, 2012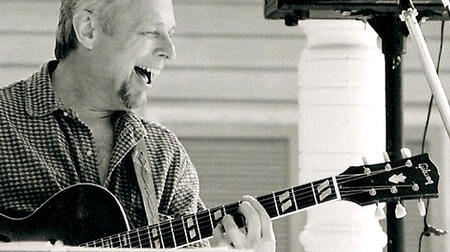 I stay so busy setting up, promoting, and hosting the dizzy's shows that I don't get the opportunity to perform live myself much anymore. Since I'm actively involved with each dizzy's presentation, that sort of takes some of the edge off. And from time to time I get on stage and sing a few songs at the Dylan or Neil Young tributes, or perform some spoken word with Bert Turetzky. But I do miss the energy and feelings of just letting the music happen spontaneously, like when I used to gig regularly with the Beat.itude quartet.
Well, I must have done something right in a previous life, because, from time to time, fate presents me with an opportunity to take a night off, call the boys, and have some fun. Patrick Armenta drums/percussion, James East bass, and Troy Jennings baritone and tenor saxophones: they are my longtime friends, and we've made lots of music together over the years. Even though the last time we performed together was 3 or 4 years ago, there will be no rehearsal. I'll put together the book – some of my original music, some songs I just like to sing and groove to – and we'll just show up, put ourselves in the moment, listen hard, and let it roll.
So guess what, it's happening again. At the San Diego Airport on Friday the 13th of July from 7 – 9:15 PM. And it's FREE in the terminal 2 Baggage claim area.
There are chairs arranged around a temporary stage, a sound system and stage lights, carts selling coffee, drinks, and snacks, lots of interesting people watching, not to mention the soundtrack we'll be laying down for this surrealistic scene.
If you're adventurous and free Friday the 13th, hope you'll come and enjoy the moment with us.