Neilfest - 1:46am Nov 11th, 2010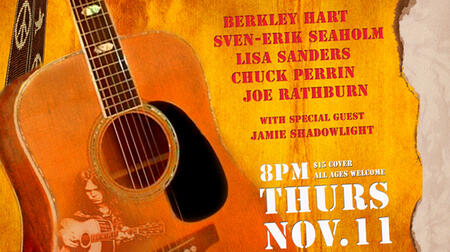 On Thursday,  November 11, 2010 – the eve of Neil Young's 65 birthday – dizzy's presented 5 acts paying tribute to this enduring songwriter/performer.  Each act performed 5 of his songs – 25 great Neil Young compositions in all! The performers were Sven-Erik Seaholm, Berkley Hart, Lisa Sanders,  myself – with special guest Jamie Shadowlight, & Joe Rathburn.  The songs I chose to perform were: On The Way Home, Birds, After The Gold Rush, Running Dry (with Jamie Shadowlight violin), & Round & Round (It Won't Be Long).
Here is a video of my performance of "Birds"  captured by audience members Jan Valdez & Steve Laub & edited together nicely by David Foster.