Longing for the lost bohemia - 12:41am Feb 5th, 2011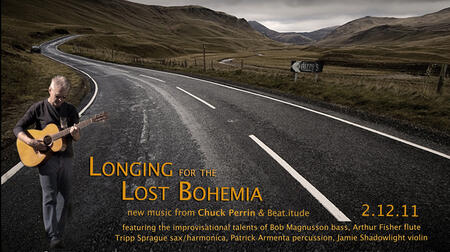 I rarely get the opportunity to perform my own music live anymore. Hosting dizzy's events keeps my nights busy, but doesn't stop me from playing guitar & writing music during the day. Every once in a while, I take the opportunity to pull together some of my favorite players & present the music I'm hearing in my head @ the best place to listen to music – dizzy's, of course. The next performance is coming up Saturday February 12 @ 8PM – it will be open, raw, & acoustic, with plenty of space for improvisation. I'm featuring the magna tone & creativity of Bob Magnusson on upright bass; amazing flute virtuoso Arthur Fisher; my longtime beat compatriot Patrick Armenta on bongos & percussion; & special guests Tripp Sprague playing tenor saxophone as well as channeling his inner Stevie Wonder on chromatic harmonica, & the lithesome Jamie Shadowlight on violin/vocal harmony.
I'm calling the show "Longing For The Lost Bohemia" – a line from my 1999 song swallow life. I can promise you, the vibe will be palpable.
Here's the set list, 13 songs that slip outside the realms of convention:
where the wild winds blow
mister blues
down to bone
sorrow
trustville
eternal feel
chain of choices
out of the cool
blood
bye bye blackbird
minor blue surcease
peace
behind the wheel
Don't you dig the amazing photo, taken by my friend Dennis Reiter & designed to perfection by Jamie Shadowlight?  We 3 must be on the same wavelength, because they certainly capture & visualize that last verse from swallow life:
"wound down in the mad sad paradise
driving round in a beat up old black biscayne
jamming on a james brown backbeat
clocking to the quarter tones
kicking licks around my brain
longing for the lost bohemia
i must of missed it
my appointment with reality
i'm inside on the outside
sitting on the shoulders of time
just riding it out . . ."
Yes, & isn't that what it's all about, right now . . .