Beat.itude Revisited - 7:25pm Sep 29th, 2006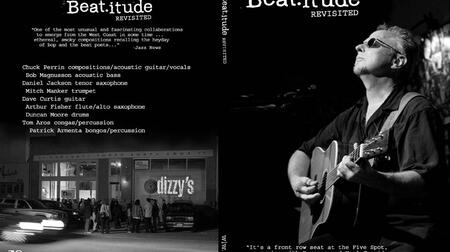 On September 29, 2006 – a dozen years after recording a series of songs I had composed based loosely on the themes & writings of the beat & jazz poets of the 1950's – I thought it would be interesting, as well as fun, to gather some of the musicians involved in those recording sessions & revisit the music in a loose & live setting at dizzy's. So that's just what we did: Bob Magnusson acoustic bass, Daniel Jackson tenor saxophone, Mitch Manker trumpet, Dave Curtis guitar, Arthur Fisher flute/alto saxophone, Duncan Moore drums, Patrick Armenta bongos/percussion, Tom Aros congas/percussion, & myself.
No rehearsal – just show up with the charts & call up the vibe – spontaneous, in the jazz tradition.
As fortune would have it, filmmaker friend Rob Amato arrived 30 minutes before downbeat & set up a few video cameras, Hiro Ikezi was there to record the proceedings, & my creative ally Dennis Reiter made magic with his photo lens. So I ended up with audio visual memories, which I turned into a DVD called "Beat.itude Revisited".
You'll find performance videos of a few songs on the videos page,
& 1 posted for your viewing pleasure on this page.