Beat.itude – the live performance group - 12:00am Mar 11th, 1998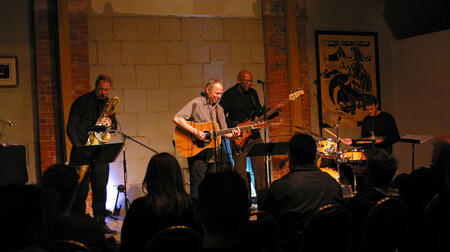 For the fun of performing live, I put together a groove-oriented quartet that featured Troy Jennings on the baritone saxophone, James East bass,  & Eric Comer drums.   I called the group Beat.itude, because the groove or beat was what we were all about. Our song list included many of my compositions, along with select recognizable rock, jazz, or r&b tunes.  Our approach was to infuse them all with a heavy dose of spontaneous energy & extended blowing.  Usually, I would set a groove with my acoustic & voice, & then the boys would blow unfettered & say whatever they felt.   There was a tangible sense of musical trust & pure enjoyment that pervaded each gig.  Songs could go on sometimes for 10 to 20 minutes, depending on where we took them. The live recordings on this page will give you a good taste of the fun we had.
There is also a video from a performance @ San Diego State, filmed in March of 1999.